21 Low-Cal, Healthy Snacks That You Need To Be Eating Today (But Not All At Once)
Image: Quinn Cooper Style
We talk all the time about protein-rich small meals, shakes, and smoothies that can help you eat better, shed fat, and make lean gains at the gym. But what if you want to go micro — what kind of snacks should you be consuming? And should you even be eating snacks at all?
We've mapped out a list of creative, healthy snack ideas that will keep hunger at bay no matter what the situation. Whether you're about to hit the gym, need to refuel quickly after working out, or haven't met your daily quota of fruits and veggies yet, these 21 snack recipes are easy, healthy, and fun to make.
To Snack or Not to Snack?
---
Image: Fitsugar
This is a question I get from clients all the time. If you're a clean eater that typically eats four to seven meals a day, you might think that snacks are an essential part of your day. How else would you get all that protein you need to build lean muscle?
For some of you, snacks — or small meals — are an imperative part of your diet. You might have a job where you're very physically active and need to refuel frequently. You might have low blood sugar and need to eat every two to three hours to prevent getting sick. Or maybe your stomach feels better with smaller meals. Some people enjoy eating often and love that there's always a fun food to look forward to.
But for every person who enjoys snacking, there is another who actually benefits from NOT snacking. Come again? Yes, some people actually benefit from not snacking. I personally believe that some clients do better eating three square meals a day. For people who tend to graze all day and habitually overeat, it might be better not to eat in between meals (or eat more frequently). In other words, snacking isn't just a nutritional component to your daily diet. It also carries emotional behaviors that often we're unconscious of.
Others — and this is the camp I personally align myself with — like to give their digestion a break and not graze all day, every day. It's easy to get overwhelmed with the constant meal prep; plus it's time-consuming to eat more than three times per day.
Ultimately, you need to know yourself and do what works best for you. There's concrete evidence to suggest that greater meal frequency, AKA the 6-meals-per-day philosophy, does NOT boost metabolism and produce additional energy expenditure.123
Carb Based/Pre-Workout Snacks
---
These snacks are great for when you're about to hit the gym and need to fuel up with some carbs. There are a ton of theories as to whether you should consume simple or complex carbs before exercising. I've tried both and find that it doesn't matter so much the kind of carbs I eat, but rather that I NEED carbs before working out. As long as you're not eating something overly processed or refined (i.e. pizza and beer) you should be fine.
1. Sprouted Grain Toast with Avocado and Sriracha
---
Image: Quinn Cooper Style
Toast one slice of sprouted grain bread (e.g. Ezekiel's) with half of a sliced avocado. Drizzle with 1 tsp of Sriracha (or whatever your favorite hot sauce is).
Nutrition: 205 calories, 22g carbs, 6g protein
2. Goji Trail Mix
---
Image: We're Talking About Food
Mix 1 tbsp goji berries, 1 tbsp raw cacao nibs, 1 tbsp raw pumpkin seeds, and 1 tbsp mulberries. Makes one ¼ cup serving.
Nutrition: 223 calories, 35g carbs, 9g protein
3. High Fiber Cereal + Skim Milk Topped with Goji Berries
---
Image: Sacred Source Nutrition
Mix ½ cup of high fiber cereal with ½ cup of skim milk. Topped with 2 tbsp dried goji berries.
Nutrition: 153 calories, 34g carbs, 8g protein
4. Celery Sticks + Natural Peanut Butter
---
Image: Kalyn's Kitchen
Stuff 2 stalks of celery with 2 tbsp of natural peanut butter (or almond butter).
Nutrition: 204 calories, 11g carbs, 8g protein
5. Apple + Almond Butter "Sandwiches"
---
Image: Whole Foods Market
Core 1 apple and cut it into circular slices. Top with 1 tbsp almond butter and a second apple slice.
Nutrition: 173 calories, 22g carbs, 2g protein
6. Cherries + Almond Halves
---
Image: First Cherries
Mix up 1 cup of cherries and 7 almond halves. Enjoy together.
Nutrition: 156 calories, 22g carbs, 4g protein
7. Hummus with Cucumbers & Bell Pepper Slices
---
Image: Lisa's Kitchen
Slice up ½ cup each of cucumbers and bell pepper slices (and color). Dip in ¼ cup hummus (4 tbsp.).
Nutrition: 167 calories, 19g carb, 6g protein
8. Nachos
---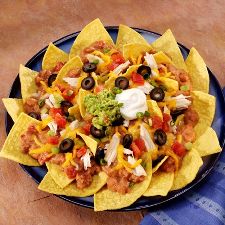 Image: College Cures
Take 6 giant baked tortilla chips and spread them each with 1 tbsp of your favorite salsa. Top each chip with 1 tsp of natural shredded cheddar cheese. Bake at 350 degrees for 5-7 minutes or until cheese is melted. You can also microwave for 60-90 seconds.
Nutrition: 131 calories, 11g carbs, 8g protein
---
---
Taji Mortazavi
is the founder of
We're Talking About Food
. Devoted to democratizing health, Taji believes that anyone CAN live a healthy lifestyle regardless of medical condition, career, budget or other secondary factors.
Besides contributing to Lean it UP, Taji has been published for her health and fitness advice in journals like Thought Catalog. Taji has been supported by numerous health and fitness companies such as
Navitas Naturals
,
Glutino
, and
Holystic Hut
. Support Taji by visiting her site and finding her on
Facebook
and
Twitter
.
Latest posts by Taji Mortazavi (see all)
France Bellisle. Impact of the daily meal pattern on energy balance. INRA (National Institute of Agronomy), Paris, France [↩]
Wilhelmine P. H. G. Verboeket-Van De Venne, Klaas R. Westerterp and Arnold D. M. Kester. Effect of the pattern of food intake on human energy metabolism. British Journal of Nutrition / Volume 70 / Issue 01 / July 1993, pp 103-115. [↩]
Taylor MA1, Garrow JS. Compared with nibbling, neither gorging nor a morning fast affect short-term energy balance in obese patients in a chamber calorimeter. Int J Obes Relat Metab Disord. 2001 Apr;25(4):519-28. [↩]