How To Eat Well In The Workplace — Breakfast Edition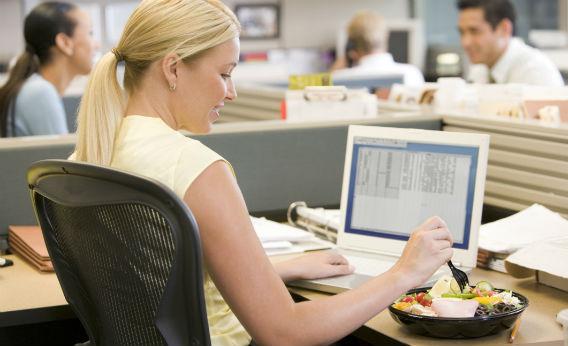 Eating well as a working professional is difficult. I get it. Most of us work desk jobs, and some of us for very long hours, which makes it extremely tough to focus on exactly what we eat. There is so much that people have to think about when they are working that it can be easy to forget to eat properly. Let's not forget to mention how busy it can be for some people such as the people who are actually running the business. They have to think about so many things from actually running the business, to making sure that their employees are actually happy. It doesn't just stop there though, they need to make sure that they can afford to pay their utility bills through a company like Utility Bidder, as well as pay their employees. And that doesn't mean that it's just business owner's who are busy, but anyone who is working a job will find that there are times when they just forget to eat or don't have the time to eat. With so many other things to take care of and stress out about at work, many people end up putting their diet plans and food choices on the back-burner. Combine that with a lack of willpower/energy to hit the gym regularly, and you've got the perfect recipe to gradually pack on weight without ever realizing it.
I work in finance myself, so I spend about 11-12 hours at a desk each day on average, and sometimes significantly more during busy seasons. As a side note though, one thing that I will hope my company sorts out is new office furniture such as desks, particularly as I spend so long sat at one. I think that I would find working (and making sure that I ate the proper food) a lot easier if I had the right equipment as well and I'm sure plenty of people would agree with that. I understand how tough it is to stick to a diet day-in and day-out, but I've always been able to employ a number of different strategies that I think work quite well for eating smart and staying healthy as a working individual. Through a series of posts here on Lean It UP, I'd like to share these with you.
The first topic I want to tackle is what I deem to be the most important meal of the day: breakfast.
I know plenty of people who skip breakfast, either because they don't have an appetite in the morning, they don't have time, or they're just plain lazy. This is one of my biggest personal no-no's, and I believe that you should NEVER skip breakfast. The truth is in the science — a 2003 study at UMass found that people who skipped breakfast were, on average, 4.5x more likely to be obese; and a 2007 study at the University of Cambridge found that consuming a higher % of daily calories at breakfast resulted in the significantly less weight gain, when compared to those who ate a small % of daily calories at breakfast (or no breakfast at all).12
Eating a wholesome, balanced meal upon waking not only jump-starts your metabolism for the day, but it provides the body with necessary energy in the morning after you've just spent (depending on how long you sleep) 6-8 hours without any sustenance. Whether you want to scarf something down at home before heading out to work, or you choose to hit the office cafeteria, just make sure you eat something as soon as possible in the morning.
I suppose the next question is…what should you eat? Right off the bat, I personally think the best option for breakfast is to prepare a meal at home before you leave in the morning. It requires you to wake up maybe half an hour earlier than you would otherwise, but it really is worth it. Not only do you retain full control over what you put into your body, but you're also less likely to find some sorry excuse later on for eating garbage or skipping breakfast altogether. I've honestly seen some of the things they offer in the morning in our cafeteria at work, and there are plenty of options that would really set you back calorically before its even 10 am, and this is definitely NOT the best way to start your day.
In terms of specific breakfast foods, I always recommend getting in a complete, balanced meal composed of quality carbohydrates, protein, and fat. I personally like to fry up two whole eggs and some egg whites on a skillet with non-stick cooking spray, and then throw in a hearty bowl of oatmeal and some natural peanut butter on the side. Depending on my goals at the time, I'll play with the portion sizes and sometimes substitute whole wheat toast for the oatmeal, but here's what a typical breakfast looks like for me right now (towards the end of a cutting/weight-loss cycle):
Total Nutrition Facts —
Calories: 405
Total Fat: 20 grams
Saturated Fat: 6 grams
Polyunsaturated Fat: 3 grams
Monounsaturated Fat: 5 grams
Total Carbohydrates: 19 grams
Fiber: 3 grams
Sugars: 1 gram
Protein: 32 grams
If you simply don't have time to whip something up in the morning, there are still a few things you can do but you'll have to be selective about your choices, as coffee shops and work cafeterias don't always offer what I deem to be a nutritious and balanced breakfast. In their defense, traditional breakfast foods tend to be heavy in carbohydrates and saturated fat (e.g. muffings, bagels, croissants, etc.), so I can't put the blame solely on the institutions themselves. My advice for buying breakfast outside if you're time constrained is to follow the same principles that guide your own cooking — find nutritionally dense foods with a nice balance of each macronutrient (meaning carbohydrate, fat, and protein). Here are a few of your best options on-the-go:
Carbohydrates
– Oatmeal: More and more places are offering oatmeal in the morning (including Starbucks & McDonald's, if necessary), so I would make this your first choice for a carb source if you can find it. Not only is it full of fiber, but it pairs well with a lot of toppings like fruit, peanut butter, and flax seed. I also personally like the fact that it's probably the most un-screwed-with carbohydrate that is available — just straight up grains that haven't gone through much, if any, processing. Make sure you avoid the flavored stuff, as you'll be getting more added sugars than you need in the morning.
(*Tip from the editor — buy a tub of oatmeal and leave it in the office. With water, it microwaves in under 2 minutes.)
– Whole wheat toast: It's probably the easiest to find when grabbing breakfast outside, and full of whole grains and fiber.
– Cereal: As per Bryan's recent three-part post The Cereal Fatness Index, you'll have to be particularly selective when it comes to cereal. Many places sell small boxes of the stuff, so at least you'll have full access to the nutrition facts and ingredients. Do your best to find something that's higher on the fiber scale and lower in sugar.
– Fruit: I think this is self-explanatory. I shouldn't have to tell you about the benefits of fruit, and it goes extremely well with oatmeal, toast, greek yogurt, or cottage cheese.
Fats
Healthy fats are particularly difficult to find when hitting a coffee shop or office cafeteria. The only readily accessible source of healthy fat for breakfast that I can think of is whole eggs (well…primarily the egg yolks), which I personally think is a great choice. If you're going to order whole eggs, you've got another opportunity to get extra unsaturated fats (the "good" kind) in by asking the chef to cook your eggs in olive oil or canola oil instead of butter. If you can find fresh avocado or salmon, absolutely go for it.
In terms of other fat options, I almost never see places offer things like natural peanut butter (you want to avoid the standard stuff, which is full of trans fats via partially hydrogenated oils), so you'll probably have to break out of the mold of traditional breakfast foods for this one. See if you can get your hands on a handful of peanuts, almonds, or mixed nuts at a convenience store.
Protein
– Whole Eggs & Egg Whites: Not only do the yolks in eggs provide a good source of fat and nutrients, but the rest of the whole egg and standalone egg whites provide one of the best sources of breakfast protein. The only thing you need to be careful about is the preparation — make sure they're not cooked in butter or overtly drenched in oil. For this reason, I recommend staying away from the mass pre-cooked batches of eggs in the breakfast buffet, and opt to get some custom made for you either scrambled or in an omelet.
– Lean Turkey or Ham: Although harder to find, some places do offer lean meats to go on toast or as part of an omelet. With that said, I think it goes without saying that you should stay away from the bacon and sausage varieties of these meats, as they can easily jack up the calories and saturated fat numbers in your daily intake.
– Greek Yogurt: This tends to be a bit pricey if you grab it outside, but it packs a lot of protein while keeping added sugars at a much lower level than its non-Greek counterparts. My personal favorite is Chobani, but Fage and Dannon Greek are also some good options. Here's Lean It UP's list of the 5 healthiest, leanest yogurt brands for further inspiration.
(*Added tip: Get the plain flavor and add in your own fruit — you'll essentially swap out added sugar and/or artificial sweeteners for those naturally found in fruit.)
– Protein Drinks: I would recommend this solely as a last resort if you can't find anything else. There are a bunch of different whey and protein-blend drinks out on the market, but none of them will come close to providing you the same benefits as whole food. But hey, if you have no other choice, do what you gotta do.
Hopefully for you hard-working people out there, this gives you some good insight into how you can get in a solid, balanced breakfast even on a tight schedule. Again, like I always say, get creative with it! Keep things fresh and mix it up from time to time, making sure to hit all of your macronutrients, and before you know it you'll be in a routine and noticing how much better you feel day-to-day. Combine this with proper nutrition throughout the rest of the day and an effective workout plan, and you'll be hitting your goals in no time.
Stay tuned for the next post in the series, where I'll be talking to you about lunch in the workplace.
Tweet
Follow Mike on Twitter @StuffSheenSays and Lean It UP on Twitter, Facebook and Pinterest for real-time fitness/nutrition tips, advice, info and updates.
University of Massachusetts Medical School — People Who Eat Smaller Meals More Often During The Day Are Less Likely To Be Obese [↩]
Lisa R. Purslow. Manjinder S. Sandhu1, Nita Forouhi1, Elizabeth H. Young, Robert N. Luben, Ailsa A. Welch, Kay-Tee Khaw, Sheila A. Bingham, Nicholas J. Wareham1. Energy Intake at Breakfast and Weight Change: Prospective Study of 6,764 Middle-aged Men and Women. Am. J. Epidemiol. (2008) 167 (2):188-192.doi: 10.1093/aje/kwm309First published online: December 12, 2007 [↩]