News: Stadium Food is Extremely Unsafe, Shocker!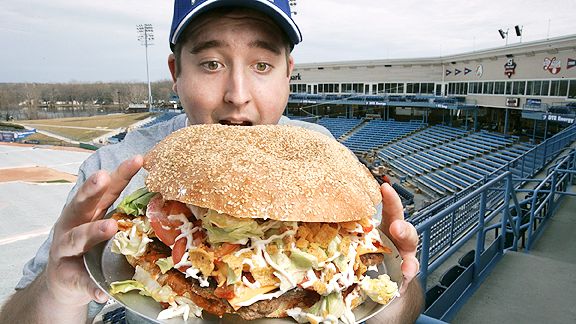 Do you have any idea what's really in the food you're eating at a baseball stadium?
ESPN's "Outside The Lines" exposed the extremely unhealthy conditions at many popular stadium concessions and restaurants. The full access look isn't pretty, and makes you realize just how disgusting, gross, and unhealthy stadium food really is.
ESPN OTL reviewed health department inspection reports for all 107 stadiums nationwide and found that the majority had multiple critical health violations. These violations included: raw food, improper storage & refrigeration, workers bleeding into food and serving it, bugs and rodents in concessions, and even finding a pus filled band-aid in a pot of clam chowder. It's absolutely disgusting, and multiple cases of salmonella/food poisoning have popped up after eating stadium food. Those who this happens to ought to consider reaching out to a food poisoning lawyer.
For anyone who's a sports fan this report is a must read. Here's a quick sample of the violations:
Yankee Stadium–48% of vendors violated health standards. Five hot dogs registered 91 degrees in a hot-holding unit when they were supposed to be no cooler than 140 (aka raw). Inspectors also had a vendor dump a bottle of Chivas Regal whiskey containing dead fruit flies.
Madison Square Garden–61% of vendors violated health standards. At one stand, inspectors found "53 mouse excreta" (38 on top of a metal box underneath the cash registers in the front food-prep/service area and 15 on top of a carbonated-beverage dispensing unit.)
Sun Life Stadium–93% of vendors violated health standards. In June 2009, an employee complained anonymously that small insects and other debris were blended into frozen alcoholic beverages at a stand where equipment wasn't cleaned. When inspectors checked, they issued a critical violation for a buildup of slime inside the frozen drinks machine.
Check out http://sports.espn.go.com/espn/eticket/story?page=100725/stadiumconcessions for the full report, including an interactive map highlighting violations at different stadiums.
Follow Lean It UP on Twitter for real-time fitness/nutrition tips, advice, info, and updates.
ELLO ELLO I'm
Bryan DiSanto.
I'm the Founder & Editor-in-Chief of
Lean It UP
, a CPT/CSN/Fitness Coach, Chef trained at Le Cordon Bleu – Paris, NYU graduate,
ex-fat kid
, and all-around fitness junkie.
I also contribute to
Men's Health Magazine
.
When I'm not working on my abs (or somebody else's), whipping up
avocado roses
and avocado toast, or running a Tough Mudder, I'm probably yelling at a Carolina Panthers game somewhere.
Come be friends with me on
Instagram (@BRYDISANTO)
&
Snapchat (BRYDISANTO)
.
Latest posts by Bryan DiSanto (see all)